Birthdate: 6/1/2006
Hips: Normal
Heart: Normal on oscultation. Glory is negative for the MyBPC3 HCM DNA mutation (i.e. she does not carry the gene).
Pedigree: Glory is out of Sarajen Jaegermeister and Cooneyisle Tizzylish of Sarajen. Click here for a full five-generation pedigree.
Litters: None - Glory has been spayed.

MEET GLORY
Glory is a flashy, beautifully put-together girl with large ears, a deep chin, and an exquisite profile. She's a good-sized girl, too, with heavy boning and good body length. And (as you can see) she is SO pretty!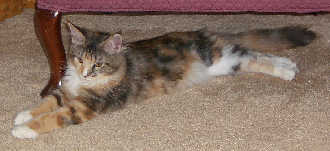 Like our daughter Katie, Glory loves soft, warm places and things (like polar fleece blankets, for example). So, the two of them often end up curling up together.
GLORY NEEDS A HOME
Glory is a gentle little soul who doesn't assert herself when there's competition. As a result, she hangs about quietly in the background while our other, pushier cats hog all the attention, toys, etc.
Because Glory becomes withdrawn and unhappy (and less affectionate) when there are other cats around, we feel that she would be happiest in a single-cat home.
HEALTH ISSUES
Glory has some significant gingivitis. She has recently had her teeth cleaned and, at that time, no extractions were necessary. However, she will require ongoing dental care (annual cleanings, plus home dental hygiene). If her gingivitis continues, she may require extractions at some point in the future.