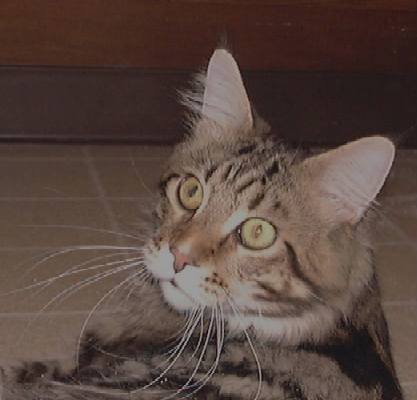 Hot Shot is a big, sweet brown classic tabby boy with good boning and a long, hard body. He has a lovely head with a long square muzzle and a very deep, square chin. His profile is a little on the straight side, but is clean and does have a gentle curve. He has large ears with good ear set and large, thick lynx tips. His tabby pattern is extremely clear. We love his expression -- open and sweet with just a touch of wildness.
Hot Shot is the dearest cat: he is loving, relaxed and outgoing, both at home and in the show hall. He gives enthusiastic head bumps and purrs almost constantly. He loves to be picked up, cuddled, squeezed, hugged, laid on by small children -- you name it, as long as he's getting loving attention. He is a real "people cat."
Hot Shot's hips are excellent and his heart is sound (checked by a board-certified cardiologist at nearly 4 years of age).