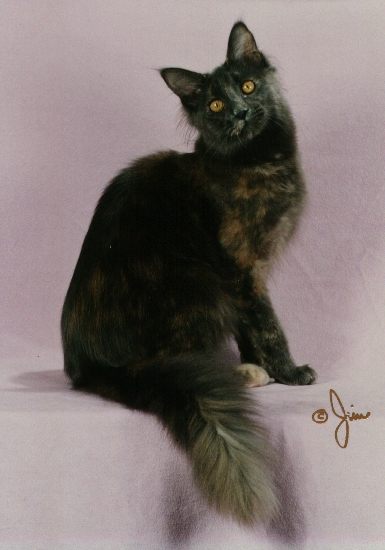 MEET MIRA

Mira is a large girl with a very long, hard body with dense musculature, a very long tail, and good boning. She has large ears with large, thick lynx tips. Mira's muzzle is long and square, with an excellent profile and deep square chin.

Mira was one of three (!) blue torties in her litter. Mira's dad is Wills, and she looks (and acts) a lot like him, especially when it comes to being a big silly goofball.

Mira is the sweetest tortie we have ever met. She purrs constantly, and with such enthusiasm that she's been known to gag herself because she's purring too hard. She loves to be picked up and cuddled, and will sit curled up in your lap for hours. Like her father, she loves to sleep draped across Betsy's neck like a heavy purring scarf. (Wills had to stop the "scarf act" when he surpassed 16 pounds, as Betsy couldn't breathe underneath him any more.)

Despite her generally calm demeanor, Mira is a playful and energetic young lady. She loves to race through the house at top speed like a little furry dragster, skidding round the corners and sliding across the hardwood and tile. This game is even more fun if she has someone else to chase (or chase her), and she doesn't seem to care whether it's another cat or a person.

Mira is now spayed and is living happily in a pet home.