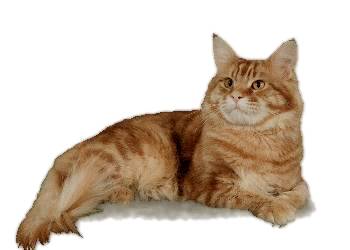 MEET PEPPER
Pepper was a red classic tabby male with deep, rich red coloring and excellent markings. He had a dense, rock-hard body, heavily boned and broad in the chest. He had a long, square muzzle, perfect profile, and a deep square chin. His ear set was very nice, and stayed tight even into old age. His ear size was adequate, and he had small lynx tips. His coat was thick but not very long, although he did have a nice full tail.
Pepper was a friendly, easygoing cat with a great show temperament -- even after he began siring. His kittens typically have had beautiful profiles, chins, and muzzles; most of his kittens also inherited his densely-muscled body.
Pepper's heart was free of HCM; his last HCM ultrasound exam was performed at 13 years of age by Dr. Jerry Woodfield, board-certified cardiologist.
Sadly, Pepper died of kidney failure at 14. He is sorely missed, both by us and by his owner, Judi Harding.