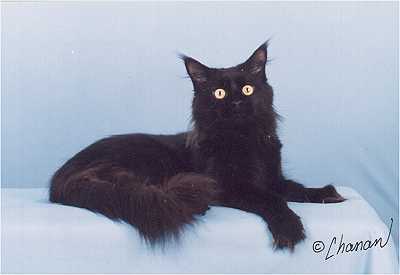 We are thrilled to have Sadie as our very own -- she came to us as an adult from Sharon & Laura Cunningham (Coonyham Maine Coons). We've been crazy about her since she was just a baby, and we still can't believe our good fortune. Thank you Sharon & Laura!
Sadie is a solid black female with gorgeous, dense black coloring. She is a big, heavily built girl with large boning and a long, hard body. Sadie has a beautiful head with a moderately long, square muzzle, a gently curved profile, and a good chin. She has good-sized ears with large, thick lynx tips. Her ear set is good (better than this picture shows -- she doesn't like flash cameras!) Sadie's hips are fair and her heart is sound.
Sadie is a sweet, goofy cat with a gentle, affectionate manner. While not obnoxiously friendly, she is goodnatured and is extremely appreciative of love and attention. She gets along with virtually everyone she meets, whether they are human or feline.
Much to our great disappointment, Sadie recently had to be spayed -- she had cystic endometrial hyperplasia (uterine cysts). She is still just as sweet as ever, and if possible, even more beautiful (sigh...). She now lives in a wonderful pet home with several (okay, a few more than "several" :-) other Pinecoon kitties.