MEET SILLY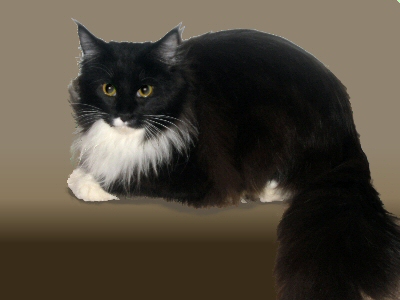 Silly is a black and white spayed female with a lovely full, plush coat and an incredible tail that's nearly as big as she is. She has a very pretty profile, a well-defined muzzle, and a long, elegant head. Silly comes to us from Cindy & Terry Stelmaschuk in Drumheller, Alberta; we are very grateful to them for letting us have this sweet silly girl.
Silly is a "scooter kitty" who generally manages to make herself scarce when you're
trying to catch her or pick her up. (She seems to be able to read your mind, especially if you are thinking the word "bath" or "carrier".) However, she is a very affectionate girl, and can be a real cuddlebug on her own terms. She sleeps on Katie's bed most nights, and generally can be found completely hidden under the covers in the morning.
Unfortunately, Silly did not pass her routine hip screening at 1 year of age -- her hips are borderline to mildly dysplastic -- and she has been spayed. She is now happily living in a wonderful pet home.