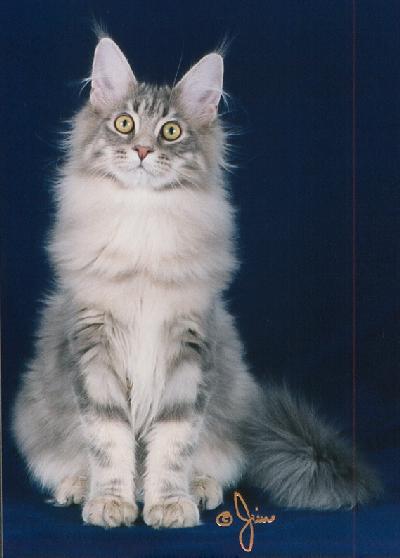 MEET SPRUCE
Born 8/27/99, Spruce is a blue classic boy with just about everything we could want in a Maine Coon (no, we aren't at all biased!). He has a long, refined head with a long square muzzle and an excellent profile. His chin is square, though not as deep as we'd like. He has huge ears with large, thick lynx tips. His coat is long and shaggy, and feels wonderful to the touch, almost like rabbit fur. He has a long, hard body, and is densely muscled and heavily boned.
Spruce is a sweet, laid-back fellow who, like his mother Moxie, purrs literally all the time (even while being bathed or judged!). He is relaxed yet still extremely outgoing and affectionate. He's also very playful -- his motto is: "If it moves, it's a toy. If it doesn't move... oh, heck, it's probably a toy anyway." Spruce sleeps with us every night, and although he does eventually settle down into Betsy's arms for the night, he invariably spends at least half an hour hunting our toes, pouncing on every little sound or movement under the quilt. (He's so cute it's hard to get annoyed with him, even at 1 AM...)
When Spruce was about 10 months old, he developed a "dry eye" problem that caused him to squint constantly. Since many visits to the opthalmologist didn't solve the problem, we elected to neuter him just in case the problem was genetic. Spruce is now retired and living in a wonderful pet home.
---
Here is Spruce at 12 weeks of age: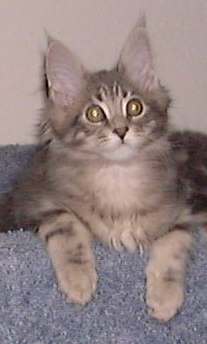 and here's a profile shot: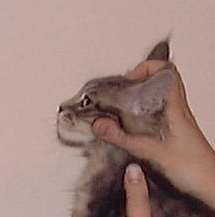 Spruce has grown a lot since he was a kitten.
Here he is at 2 years and 2 months of age: