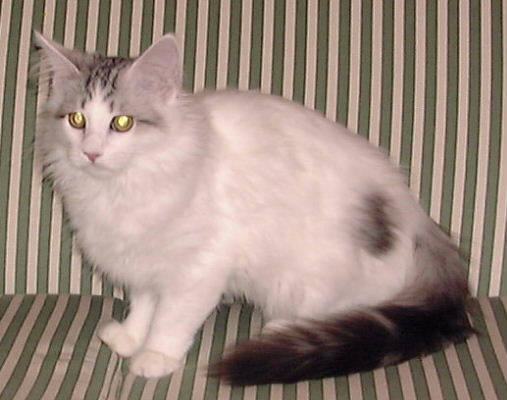 MEET VANESSA
Vanessa has a beautiful expression, with lovely eyes and "eye makeup". Her muzzle is square and well-defined, and she has a good strong chin. Her profile has a nice gentle curve and her ears are large and well set. She has a lot of coat for a kitten of her age, and she has the cutest markings: three half-dollar-sized tabby spots, a silver tabby tail, silver tabby "brake lights" on her heels, and a neat little silver tabby cap -- and the rest of her, as you can see, is pure white. (This is known as a "van" pattern, when a cat is predominantly white with just a few spots of color).
One of Vanessa's most interesting features is her pedigree: she is a fourth-generation "foundation" Maine Coon. This means that, unlike most Maine Coons (whose parentage is known for many generations), Vanessa has a recent ancestor whose parents were unknown. Foundation cats like Vanessa can contribute valuable genetic diversity to the Maine Coon gene pool.
Unfortunately, Vanessa turned out to have mild hip dysplasia, so she never entered our breeding program. She is now spayed and living happily in a wonderful pet home.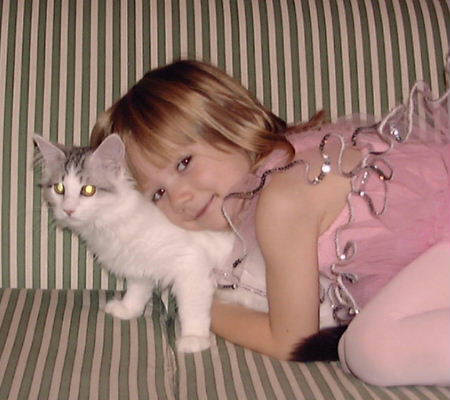 A tolerant Vanessa gets a loving squeeze from Katie Ballerina