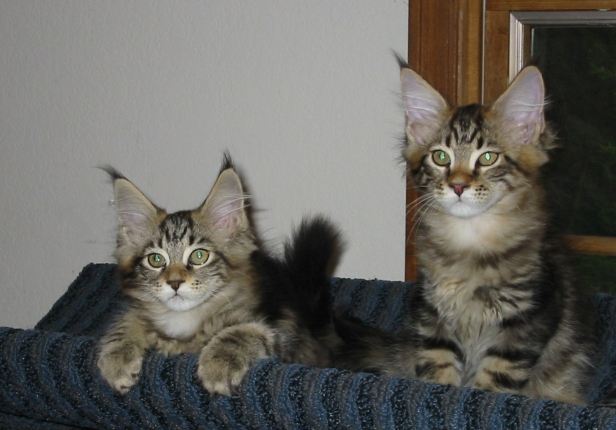 Photo by Betsy Tinney (c) 2003. All rights reserved.
The kittens are pictured above at about twelve weeks of age.
Emmy is a sweet, sturdy little girl. She is actually slightly bigger than her brother, with excellent boning and size for her age. Emmy is friendly, intelligent, and curious. She is a very gentle, laid-back little lady who loves to be held and cuddled. Emmy is tentatively reserved for a show home.

Oscar is a little terror. He is fast-moving, smart and insatiably curious. He comes jetting out of the nursery like a small furry guided missile every time we open the door. He gets into everything, but somehow manages never to get caught. Although he likes people very much, he is far too busy to stop and let himself be cuddled. None of that purr-snuggle-kissy-sissy stuff for Oscar; it's always hi-this-is-all-very-well-squirm-but-can-I-get-down-now-wiggle-squirm.

Oscar has just gone to a show home (God help them!).
Here are both kittens at 8 weeks of age. (Emmy looks bigger than Oscar only because
she's in front; actually, they are pretty close to the same size.)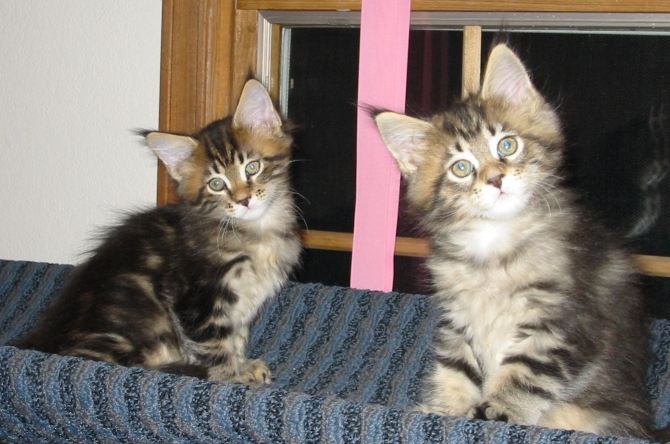 All photos on this page are by Betsy Tinney. Copyright (c) 2003; all rights reserved.