Here they all are at 12 weeks of age: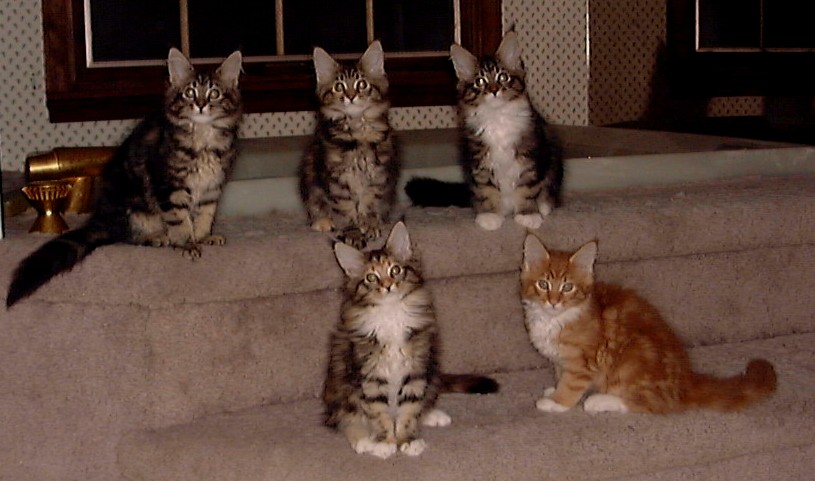 Left to right, they are Hershey, Baby Ruth, and Oh Henry (in back) and
Bit O'Honey & Jelly Belly (in front).
---
Jelly Belly (Pumpkin) is the largest kitten in the litter. He loves to eat and can usually be found with his face in the food bowl. This photo doesn't show his well-fed tum, but believe us: it's there. Jelly is a gentle, retiring fellow who often sits back and watches (or goes and gets a snack) while his littermates pummel each other. He can be playful, too, of course, though he is still convinced that the feather teaser toys are out to get him.

This is Oh Henry. No, the photo isn't sideways; Henry is. Henry is just too goofy to sit up and pose for a photo. One of Henry's favorite toys is the cat tree; he lies on his side and rapidly pulls himself round and round the upright sisal part of the tree with his front paws, which is what he was doing here.

Despite his rowdiness, Henry is probably the most loving kitten in the litter, and the only one who will stay in our laps for more than a few seconds.

Hershey (Llanfair) is an active, rowdy little girl. She and Henry are constantly diving on top of each other. Hershey likes to be petted, though she's too busy to stick around for long. If you don't pick her up when she wants you to, though, she'll sit at your feet and voice her demand with a loud "Meee!"

Bit O' Honey (now Pinecoon's Tapestry of Woodpile, also known as Squeak) is the most fearless kitten in the litter. She's always the first one into our laps, the first to explore a new situation, and (of course) the first to get into trouble. She matches her rowdy brothers bounce for bounce. Honey is a real poser, and is easy to photograph. She enjoys playing with her reflection in the mirror (hmmm... a touch of vanity?).

This is Baby Ruth (Gypsy Rose), who is smart and spunky, and who makes us laugh with her antics. For example, when Ruthie met a feather cat toy for the first time, she was highly suspicious of it, but nonetheless fascinated by it. So she stalked it and played with it, hissing furiously at it the while. But when we put the toy away, she complained and wanted us to bring it back. We think Ruthie's personality is going to be a lot like her mom's: a sweetheart one moment and a little devil the next!