MEET COKIE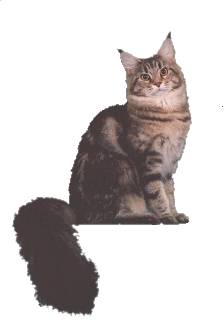 Cokie is a magnificent brown classic tabby girl with huge ears and extravagant lynx tips ("the girl with the paintbrush ears"). Her body length and boning are excellent. Cokie has a lovely head, with a long square muzzle, great chin, and perfect profile. Her eyes are large, but are slightly hooded, which gives her a more feral expression than most of our other cats. She has a luxurious coat that makes her look even larger than she really is.
Cokie is a very sweet lady, though she is a bit cautious when approaching new people or situations. She has a soft voice and a gentle, affectionate manner.
Cokie's hips are good and her heart is sound (checked at the age of 3 1/2 by a board-certified cardiologist).
COKIE'S LITTERS
Cokie's first and only litter (with SGC Coonyham Navarro) included two gorgeous boys: TGC Pinecoon's Buckskin Harry and SGCA & TGC Pinecoon's Pawnee Bill, IW.
SO WHERE IS SHE NOW?
Cokie had to be spayed at about 2 years of age due to a pyometra (which is similar to a uterine infection).
After being retired from breeding, Cokie lived happily in Redmond with her new "parents," Petra and Adam, for many years. Sadly, she died of abdominal cancer when she was about 8 years old.