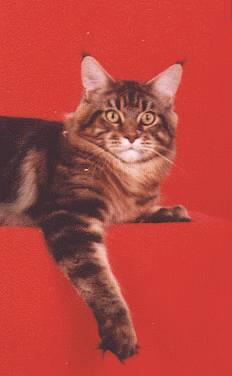 Harry is a big, sweet, handsome fellow with toasty warm brown coloring and excellent markings. He has large eyes, large ears, huge lynx tips and an absolutely gorgeous head: long square muzzle, perfect profile, deep square chin. He has a densely muscled body and heavy boning. His hips were fair at 1 year of age and his heart sound (checked at the age of 2 1/2 by a board-certified cardiologist).
Harry is chatty and fairly friendly (when comfortable with his surroundings) and is at times obnoxiously affectionate -- he has caused more than one fat lip from his enthusiastic head butts! He is very goodnatured, and tolerates such indignities as baths, medications, grooming, and claw clipping extremely well. He is a bit cautious in new situations or when small loud children (for example, ours) are present. He gets along very well with other cats and tends to avoid conflict whenever he can.
After being retired from breeding, Harry lived the life o' leisure for many happy years with his good buddy Pepper and his very own human, Judy. He died at the age of 8 of unknown causes.