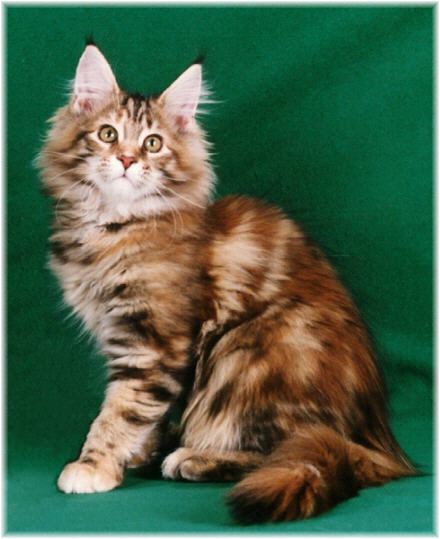 MEET HERMIONE
Like her mother Susannah, Hermione is funny, sweet and spunky. And... she is a pest!! She is into everything, all the time; though, since she purrs constantly and is a total sweetheart, it's hard to get very mad at her. Far too smart for her own good, Hermione opens drawers and cupboards with ease, and can always seem to figure out where we have hidden the teaser toys.
Hermione has extravagant lynx tips and a long, elegant head with a fabulous square muzzle and deep square chin. Her profile has a clean gentle curve, though it is a bit on the straight side. Her body and tail length are excellent. She has brilliant, deep torbie coloring, with more red tabby than brown tabby. Hermione passed her one-year hip x-rays with flying colors.
After much deliberation, we decided to have Hermione spayed, rather than have her enter our breeding program. Although she is a beautiful, healthy girl, she didn't quite end up being show quality, and also, for various reasons, she is not a good match for either of our males.
Hermione now lives in West Richland, WA with her father (Hot Shot) and her human family (Susan, Dave, and Graham).