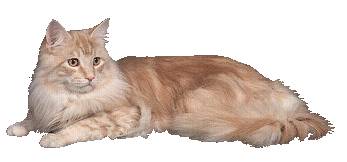 Panther was a cameo (red silver) tabby with clear, bright cameo coloring and clear tabby pattern, with clearly-defined tipping and a sparkling undercoat. He had a long head, long square muzzle and deep square chin. Panther's profile was good, though he did have a slight nose bump. His ears were very large and tightly set and well-furnished, although he did not have lynx tips. He had large eyes with a sweet, open, wise expression. He carried a full, shaggy coat. His body was very long and hard, with long legs and a long tail. He was massively built and heavily boned, and weighed about 17 pounds at 2 years of age. Panther carried dilute and nonsilver. His hips were excellent and his heart was sound.
Panther was a very sweet, affectionate, tolerant and outgoing cat. He died at 2 years of age from myocarditis (an infection of the heart; unrelated to hypertrophic cardiomyopathy). He was a very, very special cat -- the kitten we kept from our first litter; the first Supreme of our own breeding; a true gentleman; and a huge loss. He is sorely missed.
Panther's daughter Sally carried on his legacy, and bestowed upon many of her kittens the wonderful wise, sweet expression and the loving temperament she inherited from her papa.