Comment: picture here 230x220
Santa Fe and Hot Shot's Kittens
Santa Fe's second litter was born on August 23, 1999. Their father is SGC Coonmora's Hot Shot of Pinecoon (brown tabby male). Our son Jamie named all the kittens after Pokemon characters; they are:
Here is the whole litter at six weeks of age. Left to right, they are Pikachu, Meowth, Raichu, Growlithe and Arkanine. All are very loving and people-oriented, and whenever you sit down on the floor, all five of the kittens swarm into your lap, purring madly. (And then everyone but Pikachu tries see who can be the first to untie your shoelaces; Pikachu is generally too busy getting his tummy rubbed to bother with silly things like shoelaces.)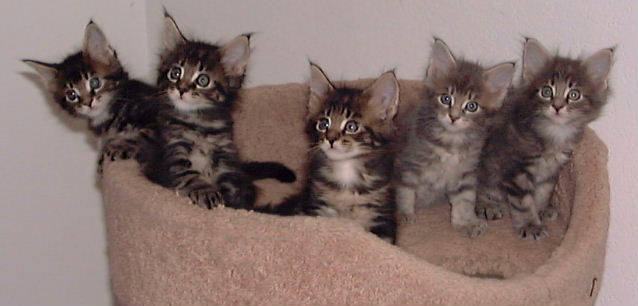 Raichu is the "pet me first!" kitten in this litter. He is friendly and easygoing, always front and center, demanding (and getting!) attention and affection; we think he'll grow up to be a great "greeter cat" like his daddy. Here he is at about 8 weeks of age: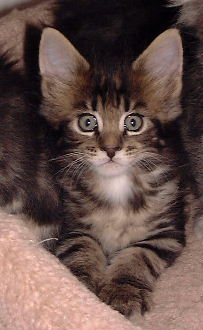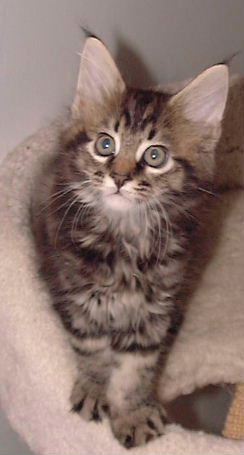 Pikachu, the other brown tabby boy, is a real cuddlebug -- would rather be on his back in your arms, getting his belly and his chin rubbed, than just about anywhere else. He is not as brave or as competitive as his brothers, but he is extremely goodnatured. Here is Pikachu at 10 weeks of age: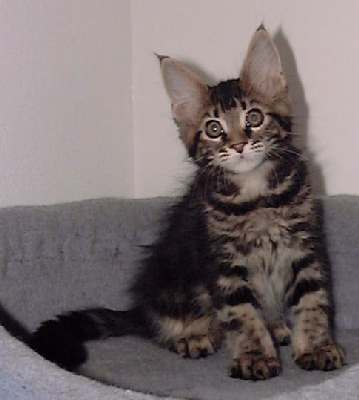 The two blue boys, Growlithe and Arkanine, are quite the pair of little tough guys. They are actually both quite sweet, but they are very rowdy, and right now they would much rather jump on each other than cuddle with anyone! Here they are at 6 weeks of age; for more photos, click each kitten's name above.