MEET CHUTZPAH'S BABIES
Madison is a brown tabby and white female who now lives with her owner, Ross, in Bellevue, Washington.
Jefferson is a red classic tabby male, who now lives in Florida with his owner Merritt Jensen and his (unrelated) "big sister", Rosie (Pinecoon's Wild Rose).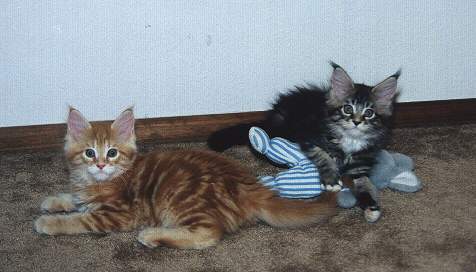 Jefferson & Madison are pictured above at about 11 weeks of age, happily abusing one of Katie's stuffed animals.
And here are Madison and Jefferson at not quite 4 weeks of age. (Toddler kittens are so cute...)