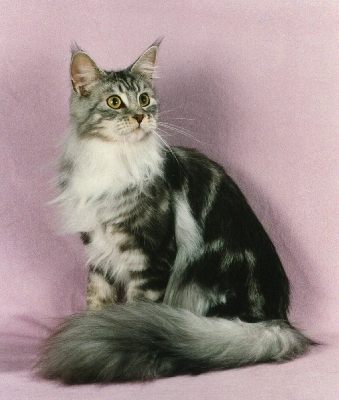 MEET LINA
Lina has a delightful, loving and laid-back personality. She is tolerant, playful, goodnatured, and absolutely rotten to the core :-). She's smart enough to notice which drawer we put the cat toys away in -- and determined enough to work at the drawer until she can get them out. (She loves dangling, sparkly things, such as necklaces and earrings, so I've begun keeping a close eye on my jewelry drawers...) Water -- in any form -- is Lina's great passion. She is happiest when she's getting wet, or (even better) getting both herself and her surroundings wet. When we leave a faucet dripping for her to play with, she leaps and slides in and out of the sink, soaking wet and full of high spirits, like a very furry silver otter. (Except that otters don't purr; and when Lina is wet, she is so happy that she purrs like crazy.) Of course, she also enjoys a lap and a quiet cuddle, even when she's dry...
...Did we mention how pretty she is? In addition to her gorgeous coloring and the fact that she's absolutely dripping in coat, Lina has a very square, strong muzzle, a terrific chin and a clean scoopy profile. Her ears are huge, with large lynx tips; their set is excellent. Lina has a charming, open expression -- an innocent "who, me?" look that is completely misleading, especially considering how much trouble this young lady gets into...
Unfortunately, Lina had to be spayed due to severe endometriosis. However, we are of course very glad to see that she's much happier (and is probably a lot more comfortable!) now that she's spayed...

More Photos of Lina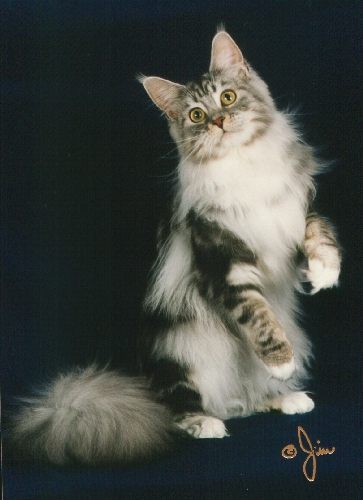 Lina at 10 months.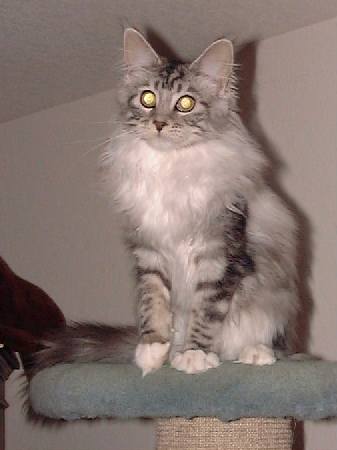 Lina at 5 months.