MEET GRACIE'S KITTENS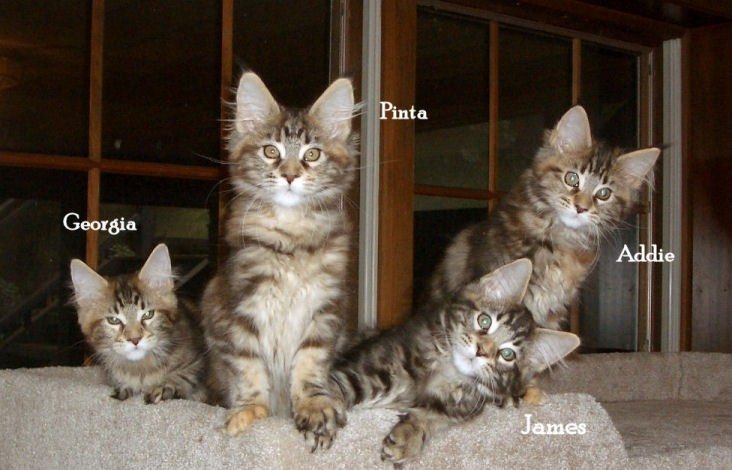 Here are photos of each kitten at nearly 12 weeks of age:
Sweet Baby James

James is our little shy boy. He is as gentle as can be, and really loves to be held and petted -- but he is a fairly timid soul who stays as far as possible from scary things (the vacuum cleaner is #1 on that list!). James is unwilling to compete with his wild and crazy sisters, so we always have to have at least two toys whenever we play with the kittens: one for the Three Little Witches, and another for Sweet Baby James.

Sweet Adeline ("Addie")

Addie is a "sweet little moosh," to use our daughter's technical term for it. She totally melts whenever you hold her, and happily drapes herself, relaxed and purring, over your lap, arm, or whatever's handy -- until someone waves a toy. Then, she becomes a little wild woman!



Sweet Painted Lady ("Pinta")

Pinta is a friendly, cheerful, loving kitten. She is quite well-adjusted, despite her sister Georgia's habit of tackling her from behind without warning. Pinta is very affectionate and loves a good cuddle -- as long as she isn't missing out on anything important. She particularly enjoys flipping dry kibble out of the dish and then chasing it, skidding across the floor until she finally outwits it, catches it, "kills" it, and eats it. (We suspect she would make a good mouser, but since she will never be allowed to roam outdoors, we may never find out...)

Pinta did very well at the shows, earning quite a few finals (including a Best Kitten -- which we think is pretty awesome for a 4-month-old girl!). However, we finally concluded that she didn't quite have the "iron-clad" temperament we require for our breeding girls, so she has gone to a pet home.


Sweet Georgia Brown

Georgia is outgoing, affectionate, smart, fearless, and a complete maniac. She has no regard whatsoever for the law of gravity, which (for a while) actually seemed to have no effect on her. No toy is safe from Georgia -- and anything that moves, including the vacuum cleaner (!), is by her definition a toy.

Due to her abundant energy and not-so-abundant judgment, Georgia managed to break her pelvis on New Year's Eve: she took a wild leap off a cat tree, apparently without first giving any thought as to where she was going to land. We are glad to report that she has recovered beautifully from her injury, after several long weeks confined to a cage, and is once again cheerfully ignoring the laws of physics.



Here are all the kittens at five weeks of age: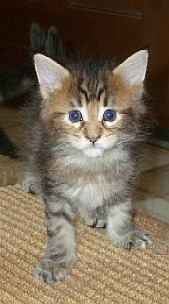 Georgia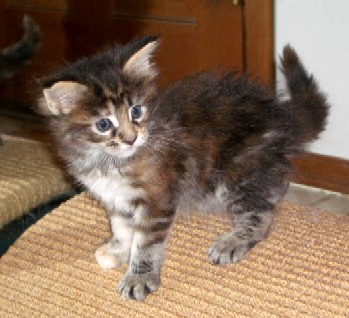 Pinta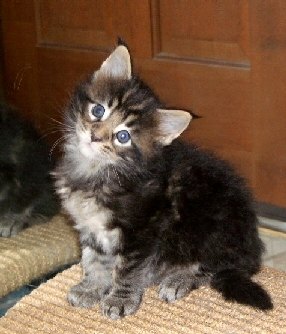 James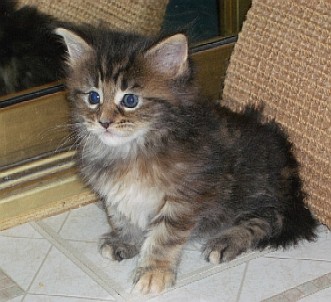 Addie