ABOUT OUR HISTORY
We got our first purebred Maine Coon (above) in early 1987 from Carol Pedley (Le Beau Minu cattery in Maine), when we lived in Massachusetts. Rion was purchased as a pet, but Carol encouraged us to show him, and he did really well in the alter class.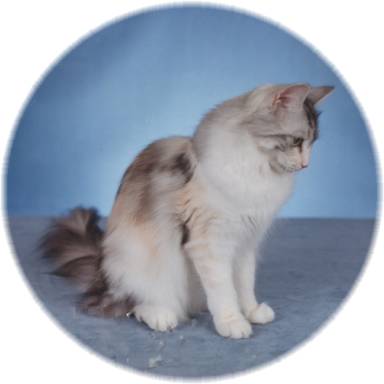 In early 1988, we purchased two breeder/show females from Carol: Le Beau Minu Acadia of Pinecoon ("Cady") and Le Beau Minu Tess of Pinecoon. In August 1988, Betsy was recruited by Microsoft and we moved to the Seattle area, along with our five cats (three Maine Coons, and two Maine Coon "wannabees").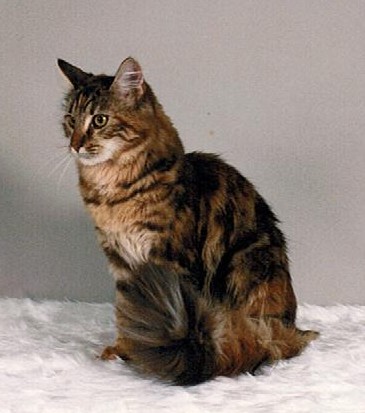 David joined Microsoft shortly after we moved.
Once in Seattle, we joined The Evergreen Cat Fanciers and began showing our cats in TICA. We also showed our cats in CFA and, for a while, ACFA. Our first litters were born to Cady and Tess in 1989; the father of both litters was Tomeran's J.J. Hardbody, owned by Richard & Nancy Koch of Solkatz Maine Coons (to whom we are still grateful for providing us, then newbies, with stud service -- for two uncooperative virgin females!). We also purchased our first stud male from Connie Zimmerman of Coonmora Maine Coons in 1989: SGC Coonmora's Jesse James of Pinecoon. Connie was a close friend and mentor to us for many years.
We were fortunate to have two Supremes in our very first litter: RW SGC Pinecoon's Pink Panther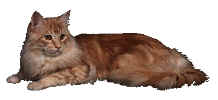 and SGC Pinecoon's Tuxedo. Since then, we've continued to be fortunate both in the show ring and at home. Our cats have done pretty well at the shows; and at home, they continue to bring joy to our lives. Life wouldn't be the same without them!
WHY MAINE COONS?
Betsy has had cats nearly all her life, and has been in love with the Maine Coon cat since she got her first cat at the age of 10: a black Maine Coon lookalike named Winkle. He was a large, shaggy fellow with a gentle,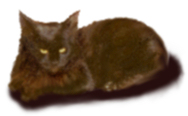 goofy temperament. To Betsy, he was the most wonderful cat in the world. It was he who stamped an indelible vision of "the ideal cat" on Betsy's impressionable young mind.
While in college, Betsy attended a cat show (showing a white Persian she had found as a stray) and discovered, to her elation, that cats like Winkle were an actual breed you could breed on purpose! Then and there, she resolved to someday breed Maine Coons -- because the world needs more cats like Winkle.