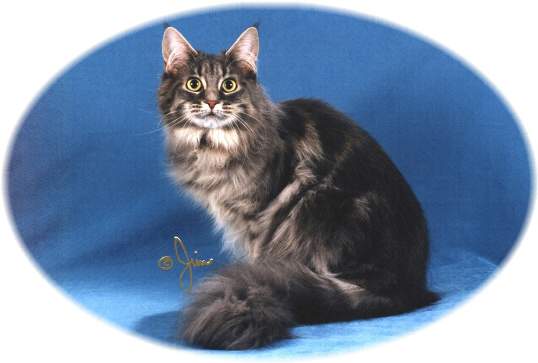 Santa Fe is a blue classic tabby female with lovely cool blue coloring (lighter than this photo shows). She is a good-sized girl with large boning and a long, hard body. Santa Fe has a beautiful head with a moderately long, square muzzle, a gently curved profile, and a strong chin. She has large ears with large, thick lynx tips and a very nice ear set. As you can see, her expression is wide-open yet still slightly wild (a look we love!) Her hips are good (at 1 year) and her heart is sound (tested most recently in April 2004 at 7 years of age by a board-certified cardiologist).
Santa Fe is a dedicated lap cat: whenever I "make a lap," it's hers -- even if another cat gets there first! (Despite her somewhat territorial feelings about my lap, she gets along well with our other cats.) She is a sweet, tolerant cat who absolutely loves to snuggle, and who is extremely affectionate with people she trusts. Although she's not terribly outgoing with strangers, Santa Fe will eventually come out to meet them, especially if they've got a toy or (even better) if she thinks they've got a nice-looking lap.
Fe is now retired and is happily living as the only cat in a wonderful pet home.
"Vital Statistics" for Coonyham Santa Fe of Pinecoon

Color
Blue Classic Tabby
Birthdate
3/22/1997
Parents
Sire: IW SGC Coonyham Sundance, OS
Dam: TGC Coonquest Cimarron
Breeder: Laura/Sharon Cunningham
Owner: Elizabeth/David Tinney

Santa Fe's Pedigree

Heart
Normal at 7 years of age per doppler ultrasound. Exam performed in April 2004 by Dr. Jerry Woodfield, board-certified veterinary cardiologist.
Hips
Good at 1 year of age.