MEET FROSTY
Frosty is a big brown mackerel tabby and white boy, heavily boned and densely muscled. (In addition to being a bit large, he's also a bit chubby, which is why his adult show career was not as stellar as his kitten career.) His muzzle and chin are strong and square.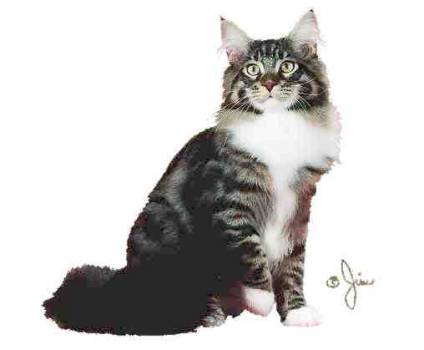 Frosty's ears are large and well-furnished, with nice lynx tips; their set is good, and has stayed pretty high even as he's gotten older. He carries a heavy, shaggy coat and, fortunately, is very tolerant about being groomed.
Frosty's father is Phoenix and his mom is Lindy Hop. He is as sweet and outgoing as both his parents, and as completely unflappable as his mother. Fortunately for him, Frosty inherited his father's brains and his mother's coat.
Frosty is now retired from breeding -- for no particular reason, except that he'd been doing it long enough -- and is now happily warming Betsy's pillow again, something he hasn't had the opportunity to do in years.
So how did a brown mackerel tabby & white get a name like Frosty?
Some of Frosty's children who have gone to show & breeding homes: