MEET PHOENIX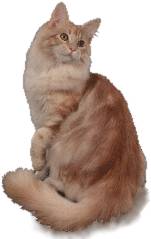 Phoenix is a cameo (red silver) tabby with clear, bright cameo coloring and clear tabby pattern, with clearly-defined tipping and a sparkling undercoat. He has a long elegant head, long square muzzle and deep square chin. Phoenix's profile is good, though he has a slight nose bump. His ears are large and tightly set (even at the age of 6) and well-furnished, although he does not have lynx tips. He carries a very full, shaggy coat. His body is very long and hard, with long legs and a long tail. Phoenix is not a particularly large male, but he has thrown good size even when bred to average-sized queens. Phoenix carries dilute and nonsilver. He is very healthy, his hips are very good, and his heart is sound.
Phoenix is quite affectionate and outgoing; every kitten of his has been exceptionally loving as well. Whenever anyone pets him, he falls over, and then lies there wriggling and purring and being completely undignified (but happy).
After Phoenix retired, he lived with us for several years, but we were finally forced to admit that he wasn't happy. He had a very hard time getting along with our highly opinionated and obnoxiously friendly girls, especially Hoppy and Torri, particularly when they are feeling rowdy and he isn't. (Hoppy liked to lie in wait for him at the top of a cat tree, then drop on top of him when he walked unsuspectingly by. She seemed to actually enjoy the resulting peach-colored furry explosion...)
Phoenix now shares a wonderful home with another retired Maine Coon male. The two boys get along very well together; although we miss our "Phix," we are glad to know he's happy.