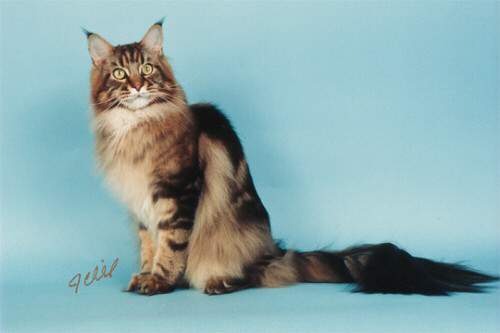 MEET BILL
Bill was Betsy's feline soulmate and her favorite cat in the whole world. He slept alongside her every night, kissed her hello in the morning and came softly padding to her when she called him -- even when she didn't call out loud. He was a sweet, gentlemanly, considerate fellow -- loving, but in a gentle way that always made you feel specially blessed when he came up to give you a head-bump and a kiss. Bill graced our home and our lives for just two short years, and was deeply beloved by all of us. We still can't believe he's gone.
Bill was only two years old -- and had been perfectly healthy -- when he was suddenly struck down by a pulmonary thromboembolism (blood clot to the lung). One afternoon, he was purring and giving Betsy head-bumps from his favorite cat tree, and she was telling him how much she loved him and how special he was -- and the next moment, he arched over backwards and fell out of the cat tree; by the time he hit the floor, he was gone. The last thing he heard was how much he was loved.
Bill was a beautiful, beautiful cat -- loads of coat, rich warm brown tabby coloring, lovely wide-open expression, big ears with huge tips, and great boning. He earned his Triple Grand Championship as a whole cat, was neutered, and then went on to earn his Supreme Grand Championship as an alter. Bill truly enjoyed being shown, and loved all the attention he got from spectators and judges alike. When a judge put him on the judging table, Bill would stand tall and regal, plumed tail held gracefully aloft, and bask in the spectators' oohs and aahs (you could tell he just knew they were talking about him). Bill had friends all over North America, and even had a "second family" in California -- the Cunninghams, who took Bill into their home (and their hearts) many times during the past show season. Without the Cunninghams' help and loving support, Bill could not have achieved the honors he earned this year.
For the show year 1997-1998, Bill was TICA Northwest Region's Alter of the Year, as well as TICA's Fifth Best International Alter. We are so proud of him and how well he did.
And we miss him terribly.