MEET RUMBLE
Rumble is a brown classic tabby male with lovely color and pattern. He is a very large fellow (at age 4, he weighed 24 pounds, and measured 46" from his nose to the tip of his tail!). He has a long, hard, muscular body and heavy boning. His ears are huge, nicely set and with thick lynx tips. He has a nice square muzzle and a deep chin. He does have a slight to moderate nose bump, but his profile is otherwise a nice gentle curve. His purr is deep and constant.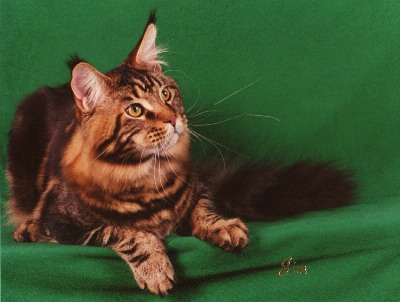 Photo by Jim Brown/Pheline Photography (c) 2001. All rights reserved.
His name is Rumble because, when we asked him what his name was, that's what he said (and repeated over and over): rumblerumblerumblerumble... After we discovered that Rumble was definitely his "call name" -- in fact, we found we couldn't call him anything else -- we spent days racking our brains for a "formal name" that went with Rumble. The name Thunder Paws came to us at about 5 AM one morning, when four oversized furry paws began thundering noisily around (and across) our bed, attached to a certain wildly enthusiastic kitten who had just discovered the sun was up, and had decided we should be, too.
Rumble is playful, outgoing, and virtually fearless. He adores our kids (the feeling is mutual) and loves to be in the middle of everything. He lets them haul him around (though Katie can hardly lift him any more). He is also smart and persistent, and won't take No for an answer (this can get a bit frustrating when one is trying to type on the computer, for example, and he is insisting on Helping Mom Type...). His hobbies include sleeping in the bathroom sink, knocking down towers that the kids build for him out of blocks, and snitching barrettes from Mom's "hair things" basket, which later appear in all sorts of unlikely places: "Honey... what's your barrette doing in my slipper?" (For pix of Rumble's First Christmas, click here.)
At five years of age, Rumble is still just a big overgrown kitten, and of course, he is still our baby.
Rumble has recently completed TICA's requirements for the title of Outstanding Sire*. To qualify for this prestigious title, a cat must sire at least 10 TICA Grand Champions. To see photos of Rumble's many "Grand children", click here.
* Pending official confirmation.