MEET HANA

Hana was named after her grandmother, Pinecoon's Flower of Herbykatz, a silver torbie and white girl who went to live with Mamiko many years ago. ("Hana" is Japanese for "flower.") We are absolutely thrilled to have this beautiful, affectionate baby, and can't thank Mamiko enough for entrusting her to us.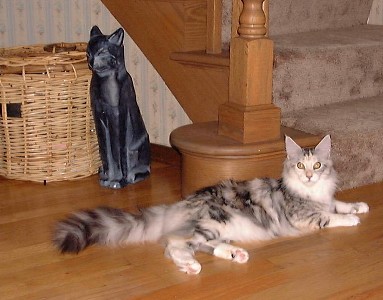 Not only is Hana a very endearing cat (she purrs all the time, loves to be held, and thinks everyone she meets is her friend) -- but she is a beautiful girl as well. Her muzzle is fantastic: long, square and well-defined. She has a great chin and a nice gently curved profile. Her ears are large and tightly set, with nice lynx tips. She has a long, hard body and an extravagantly long tail. And she is SUCH a pretty color!!
Hana has just completed the requirements for the title of TICA Outstanding Dam. To qualify for this prestigious title, a cat must have given birth to at least five TICA Grand Champions. (To see a list and photos of some of Hana's beautiful "Grand" children, click here.)
---
MORE PHOTOS OF HANA
Here is Hana with TICA Judge Laura Cunningham. In this photo, Laura has just given Hana a Best Longhair Cat -- the final requirement for Hana's Supreme Grand Championship!