MEET ONYX
Onyx is friendly and rowdy and full of fun. He has a laid-back, goodnatured approach to life, and often looks as if he is completely boneless (flop!).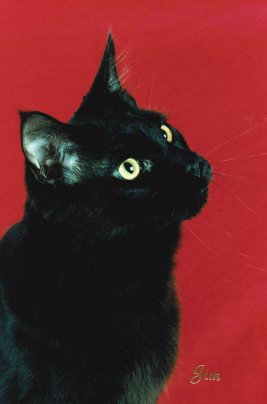 He especially likes to drape himself across Betsy's throat while she's trying to sleep -- which, of course, makes it impossible to sleep or breathe, since he is very heavy.
Onyx has a wonderful head, with a beautiful clean profile, strong square muzzle and deep square chin. His ears are a little smaller than we'd like, though they are well set, well furnished and have decent lynx tips.
Onyx has an extravagantly long body and tail, and at 4 years of age, is just filling out -- for years he was a very large, very lanky "teenager".
WHERE IS HE NOW?
Onyx still lives with us. (At the moment, he's probably draped over something not intended as a cat bed -- preferably something that belongs to Betsy.)
BABY PICTURES
Here is Onyx at 10 weeks of age: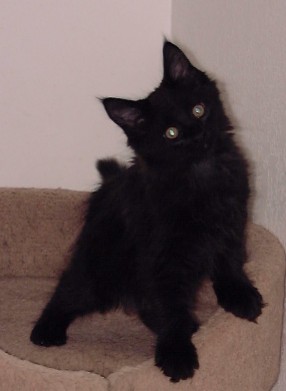 If you want, you can see more baby pictures of Onyx and his littermates.