Birthdate: 12/16/1998
Hips: Excellent at 4 years of age
Heart: Normal & healthy. Last screened in June 2009 via Doppler ultrasound at 10.5 years of age.
Wills' HCM DNA results
Pedigree: Wills is out of Flap and Santa Fe. Click here for a full five-generation pedigree.
Litters: Wills sired many litters. At some point (when we get time) we will list them all here.
AWARDS
Wills is a TICA Outstanding Sire, which means he has sired at least 10 TICA Grand Champions. To see pictures of Wills' Grand children, click here.
BABY PICTURES
Here is a photo of Wills, his mom Santa Fe, and his littermates when they were about eight weeks old: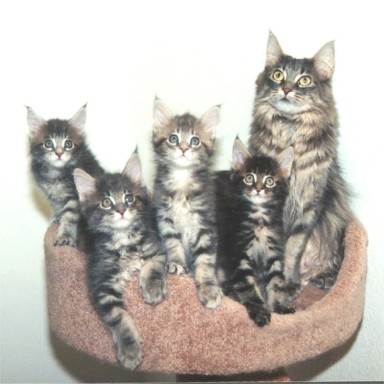 Left to right, they are Victor, Wills, Chester, Julius and mom Santa Fe.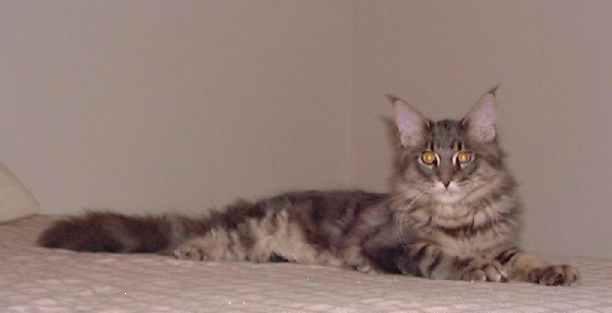 Wills at about 1 year of age
Wills is a very large blue classic tabby boy with a long, hard body, heavily boned and densely muscled. His muzzle is very long and well-defined, and he has a strong, deep chin. His ears are huge, well set, and amply furnished, with large lynx tips. He has a clean, gently curved profile and a wild yet sweet expression. His hips are normal (checked by radiograph at one and four years of age) and his heart is sound (as per annual cardiac Doppler ultrasound exams, performed by a board-certified cardiologist annually since Wills was one year old).
Wills is a sweet, goofy fellow who loves people and constantly wants to be in the middle of everything. His personality is very much like his father Flap's -- something like a cross between a monkey and a beanbag. He loves to be held upside down and generally manhandled, and is happiest when lying on his back in my lap while I pull his armpit hairs (go figure!).
Unfortunately, when Wills was just two weeks old, a littermate's claw caught in his left eye, the injury immediately became infected, and as a result he nearly lost the eye. Fortunately, with the help of our wonderful feline ophthalmologist, Dr. Dice, we managed to save Wills' eye and some of his sight; but his cornea is permanently scarred. Because of his scarred eye, Wills cannot be shown (which is a shame -- we think he would have done pretty well).
Here is Wills at 11 years of age. He weighs about 30 pounds in this photo.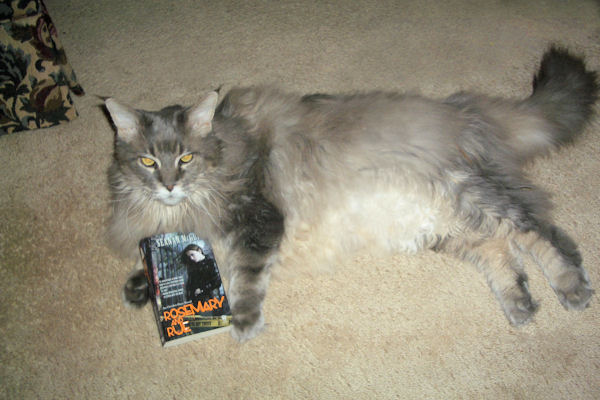 ---
We lost Wills to liver cancer on October 13, 2010.
We miss him so.