EDDIE:
VITAL STATISTICS

Birthdate: 7/6/02
Hips: Good at 1 year of age
Heart: Normal and healthy. Screened via doppler ultrasound at
1 years of age.
Pedigree: Eddie is out of Wills and Lina. Click here for a full five-generation pedigree.
Litters: None.


BABY PICTURES
Here's Eddie at 7 weeks of age: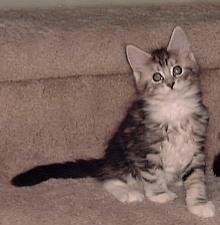 MEET EDDIE
Eddie is a handsome fellow with large ears and huge lynx tips. His muzzle is long, square and well-defined, with a deep square chin and an excellent profile: a clean gentle curve. He has large eyes that give him a sweet, slightly feminine expression (but he is still a macho man, really he is!) Eddie has a very long, lean, muscular body, and looks like he's going to grow up to be a pretty big boy.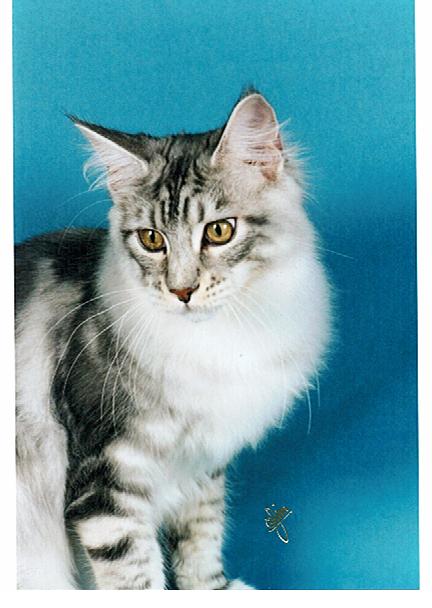 Eddie is sweet, gentle, and laid-back; he purrs readily and is pretty relaxed about most everything (except traveling in the car, which he hates). He good-naturedly tolerates brushing, bathing, blow-drying, claw clipping, being hauled around by our daughter, and constantly being ambushed, tackled, and knocked down by Pippin, who doesn't seem to realize that Eddie is twice his size. Eddie does have one minor temperament flaw: he's a whiner (we should have named him Chardonnay :-). He whines when the food bowl is empty, when he suddenly realizes he's the only one in the room, and when the lap he wants is already taken... and he becomes positively operatic in the car.

EDDIE'S AWARDS
TICA Northwest Region 6th Best Allbreed Cat 2003-2004

TICA Northwest Region Best Maine Coon Cat 2003-2004

TICA Northwest Region Best Maine Coon Kitten 2002-2003
WHERE IS HE NOW?
We decided to have Eddie neutered without using him for breeding because he had developed gingivitis. Although Eddie's own gingivitis is pretty minor, this condition can be considered heritable, and can in some cases become severe enough to require all the cat's teeth to be pulled; we didn't want to take the chance that Eddie might pass on a more severe form of the disease.
Although Eddie was one of those special cats we had hoped to keep forever, we reluctantly concluded he'd be happiest if he didn't have to compete for attention with other, more dominant cats. (Eddie was just too nice for his own good.)
Eddie now lives happily in Seattle with his owners Betty and Larry (who, it must be noted, took the excellent photo at the top of this page).